Be in the
Centre of Attraction

at the Heart of Singapore

Let us know what more we can share regarding MARTIN MODERN
<<Sales Enquiry (+65)6100 1308>>
About Martin Modern, Singapore
A rare new project in this matured prime district, Martin Modern is thoughtful modern design, featuring unrivalled accessibility, coddled in lush and spacious botanical park land. It represents the best of cosmopolitan living with all the privileged choices at its doorstep.
COSMOPOLITAN DISTRICT 9
The insightful and well-travelled among us know the value of having choices and having quick access to them. Time is precious, that is why very few locations in Singapore are as sought after as District 9. This district is bounded by Orchard Road, River Valley, and Robertson Quay. The Orchard Road area is the established shopping and lifestyle heart of Singapore, while the Robertson Quay area is packed with dining, theatre and gallery options.
District 9 is also minutes away from the Central Business District (CBD), financial district and the glittering pleasures of Marina Bay. Situated in District 9, Martin Modern residents will be presented with a lifestyle that will please both the discerning sophisticate and the smart investor.
LIVING AND BREATHING REAL LUXURY
Real luxury is having the indulgence of natural space in land-scarce Singapore. Martin Modern has generously utilized 80% of its land area to be developed and artfully designed into a unique botanical garden and arboretum of native flora.
More than 200 species of plants and 50 species of trees will form a lovely, enchanting, natural park that will embrace the two-towered development. Residents and their loved ones will be able to spend healthy quality time together strolling, jogging and doing yoga - without crowds - within their haven in the prime district. And when Martin Modern owners look out their windows each day, they will be greeted by a naturally lush and verdant vista that few developments can afford.
CATCH THE REVITALISATION EARLY
Two factors make Martin Modern a not-to-be missed opportunity: the upcoming revitalisation of the area and the rare opportunity of a large plot in an established enclave.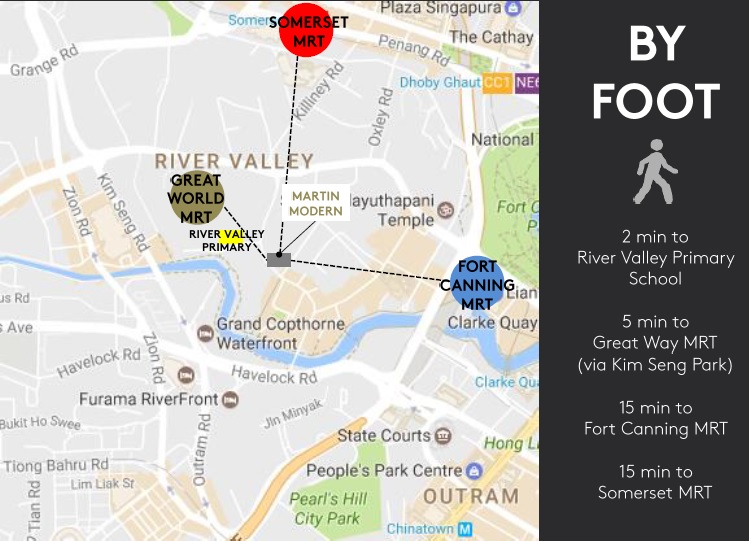 Project Details
Project Name
Martin Modern, Singapore
Type
Apartment / Condo
Classification
Condominium
Address
8 Martin Pl, Singapore 237992
Site Area
15,936.1 sqm (171,535 sqft)
Unit Type

PROJECT HIGHLIGHTS

- Located in the highly sought after district 9, within the highly coveted lifestyle enclave of Robertson Quay




- Two 30-storey towers with a total of 450 units, all of which comes with a view of the gardens, the city or the Singapore River, situated on a 1.6 hectare land size




- Units are designed with well-proportioned, functional spaces, and very high quality finishes and fittings




- Over 80% of land area in Martin Modern will be set aside for a botanic garden and an arboretum of native trees and vegetation




- 15 different spaces with various concepts like a party lawn, a forest trail, a rain gardens and a maze among others as well as two rooftop gardens




- Bespoke recreational facilities and GuocoLand's concierge services. The overall feel will be that of a plush and relaxed resort within the city centre.




- Unique development crafted by master craftmen:

Master Architect: Yip Yuen Hong from ipli Architects,

Project Architect: ADDP Architects, and

Landscape Designer: ICN Design International




Martin Modern is a newly launched luxury private condominium development by GuocoLand Pte Ltd Singapore. It is an exclusive 99 years leasehold condo development near River Valley. Martin Modern land area is 171,536 square feet with a plot ratio of 2.8 and its gross floor area is 44,622 square feet. As we have mentioned earlier that Martin Modern is a new private residential development property, so there is no restriction on overseas buying. It is located at prime District 9, Orchard which is close to several amenities and conveniences. Martin Modern has a natural theme of the botanic garden which gives a serene and calm environment.

Martin Modern condominium development is split into two towers with 30 levels each, comprises 450 residential units. The exclusive condominium has 253 parking lots for future residents of Martin Modern. The residential units of Martin Modern consist of 2 bedrooms (764 sqft) to 4 bedrooms apartments, some of them with study rooms and some are without study rooms. Martin Modern offers plenty of facilities to live a luxurious life with exclusivity and at the same time with a natural environment. The Martin place condominium is strategically located in Singapore and modularly designed according to your needs and preferences.




Martin Modern Developers:

GuocoLand Pte Ltd is one of the most reputable property players in the real estate industry of Singapore. GuocoLand Pte Ltd does not need any introduction, their name and work speak. Martin Modern developer is known for its luxury developments and they are a very significant part of Hong Leong Group. GuocoLand Pte Ltd offers quality exclusive developments and their work is appreciated across the county.

GuocoLand's recent developments include Leedon Residence, Goodwood Residence, Wallich Residence at Tanjong Pagar Centre, and Goodwood Residence. GuocoLand's priority is quality and they are really appreciated for its quality finishing and layout. Regardless of the fact that being in the conventional area, GuocoLand does not oppress buyers and does not compromise on the quality of development. The Martin Modern developers offer contemporary residences that further served a room for modern life.




Martin Modern Location:

Martin Modern is located in District 9, at the corner of Martin Place and close to River Valley and it is tight spaced between River Valley Road on the edge of Orchard Road and Robertson Quay along the Singapore River. Martin Modern is strategically located in a very highly demanded area of Martin Place near the Great World City Station of Singapore. This exclusive condominium development has several amenities nearby such as shopping malls, business centers, eateries, MRT stations, medical hubs and many more.

Martin Modern a new property is situated near the existing zones of Singapore such as Martin Place, the Orchard Road, the Civic District, the Central Business District (CBD) and the Marina Bay. The very up and coming Great World City Station on Thomson East Coast MRT Line is 4 to 5 mins walk away from Martin Modern. Orchard Road is 5 mins of drive away from the condo, Raffle Palace and Marina Bay financial district is 5 to 10 mins drive away from the Martin Modern. Orchard MRT Station is one train stop away, Shenton Way and Marina Bay are 4 to 5 train stop away from Martin Place.




Amenities & Conveniences near Martin Modern:

Martin Modern a new property is settled at the corner of Martin Palace, which is close to River Valley and placed between River Valley Road on the edge zone of Orchard Road and Robertson Quay. This area has proximity to several amenities and convenience that is actually a dream place to live.




Connectivity of Martin Modern:

Martin Modern Condo is located at a core central region (District 9) in Singapore which is directly or indirectly connected to several places. The public transport system is very active and efficient in this area. There is a new L shaped MRT that is introduced from the north zone, Woodlands to the South near Marina Bay, and goes to the East zone at Sungei Bedok land Pte. Martin Modern at Martin place near River Valley is almost 10 mins drive away from the Central Business District(CBD), Marina Bay Sands(MBS), Suntec City, Resorts World Sentosa, Dempsey Road, Orchards Shopping Belt near Martin Place, Clark Quay in different directions. Further connected to major expressways named the Ayer Rajah Expressway(AYE) and Central Expressway(CTE).




Schools and Educational Institutes:

As we all know that the District 9 zone in Singapore where new property Martin Modern Condo is situated in a prime place to own a property. There are several prestigious schools and educational institutes are available in the vicinity of Martin Place. Martin Modern is the very ideal residential Martin place for parents, as there are reputable schools and academic institutes for every level of education. Several educational institutes are the Gan Eng Seng School, The ISS International School, Delta Senior School, the Overseas Family School, SXS University, Outram Secondary School, the Chatsworth International School Orchard Campus, the Henderson Secondary School, Finnish Supplementary School, the Norwegian Supplementary School, Raffles Girls Secondary School, the National University of Singapore, Queenstown Secondary School, Crescent Girls School, River Valley Primary School near Martin Place, Alexandra Primary School, Zhangde Primary School, Swedish Supplementary School, the Eton House International School(Outram) and Eton House International School.




Supermarkets and Malls close to Martin Modern:

There are many supermarkets and shopping malls are available in proximity to Martin Modern at Martin Place Singapore. Future residents of Martin Modern residences will get to enjoy the proximity to plazas, shopping centers, business hubs, markets, groceries, and eateries. Some of the best known in the vicinity are the Cold Storage in Great World City shopping center, Valley Point near Martin Place, Takashimaya, Robertson Quay, Robertson Quay Walk Shopping Mall, Tanglin Shopping Centre, Centrepoint, Orchard Grand Court, Tiong Bahru Plaza, Scotts Square, Kim Tian Road, UE Square & NTUC Fairprice in Vally Point, Bukit Ho Swee, Robertson Quay, and Bukit Merah Road.




Restaurants and Cafes:

Martin Modern Condo is situated in District 9 the central region of Singapore, has very delicious food spots and cafes in the vicinity. This is the Martin Modern zone where you get every kind of food you like and have so many affordable dining places as well. Cafes in Martin Modern near Martin Place are also very famous. Some of them are Cafe at Martin Road, Chopsuey Café, The Book Café, Common Man Coffee Roasters, Those Little Things near Martin Place, Dempsey area, Clark Quay, Boat Quay, and Zion road food center.




Chillout Spots near Martin Modern :

Martin Modern is also known for the best chillout places to hang out with your friends and your loved ones. Martin Place zone (near Great World City) has several places near Martin Modern residential development such as the Boat Quay area offers many pubs and bars. Also, there are conservation Houses across the river to enjoy the view and the dining facility is provided to enjoy food near to the river.




Club Houses & Parks near Martin Modern:

Martin Modern Singapore at the corner of Martin Place is close to these enjoyment places such as the Stardust Clubhouse, The American Club, Martin Place, UE Square Club House, the Tanglin Club, The Legends, The Pines Club, Singapore Botanic Garden, The Istana Park, The Royal Tanglin Golf Course, Alexandra Park, Tiong Bahru Park, Fort Canning Park, and The Southern Waterfront Area.




Martin Modern Facilities:

The Martin Modern at the corner of the Martin place has all basic as well as luxurious facilities available to serve future residents.
Martin Modern site will be divided into 15 different zones offering party lawns, the botanic garden, rain gardens, and 2 high rise rooftop gardens for residents to enjoy the fresh and cool breeze of nature.
The Martin Modern has an exclusive entrance with a very posh environment that truly gives the feeling of a 7-star hotel.
The Martin Modern residential units are constructed in such a way all can have a clear and tranquil view of the Singapore river, city skyline, and botanic garden from Martin Place.
The Martin Modern project offers lush green natural views in this busy city center, that gives the feeling of a beautiful resort along with Singapore River.
The Martin place offers a gymnasium and fitness & yoga deck facility for residents.
Study Lounge facility is also provided at new Martin Modern to laid back and enjoy reading in a calm environment at Martin Place.
Martin Modern has a separate Dining Pavilion, where you can enjoy the meal with your family, friends, and neighbors.
Martin Modern has a tennis court for tennis lovers and a kids' playground with an activity area to enjoy games at Martin Place.
Martin Modern near Martin place has an extensive Barbeque area.
The new property has a swimming pool facility, it has a family pool, a kids pool, and a jacuzzi.
The landscaping of this new property site is extensively over 3 levels of development.
The Martin place interiors are high quality and diligent and it gives a very royal feeling.
Quality fittings and finishings are offered at the Martin place to enhance the credibility of the development.
Smart home systems are installed at the Martin place to keep the residences up to date and modern.
The Martin place offers 24/7 complete security system and management.




Distance to Neighbourhood of Martin Modern:

• Martin Modern has almost 10 bus stations in a neighborhood within 1km of distance such as AA center (13091) is 5 mins or 317 m away, Airview Tower (13081) is 345 m away, The Morningside is 359 m away, and Opposite Muhammad Sultan Road is 7 mins or 473 m away from Martin Place

• There are almost 10 MRT stations within 5 km of distance from Martin Modern like Somerset (NS23) MRT Station is 762m away, Dhoby Ghaut MRT Station is 1052m away, Clarke Quay MRT is 1108m away, China Town MRT Station is 1152m away, Outram Park MRT Station is 1339m away, and Orchard MRT is 1369m away from Martin Place.

• Martin Modern has proximity to almost 9 schools within 1km such as River Valley Primary School is 3 mins or 202 m away, Outram Secondary School 764m away, St. Margaret's Primary School is 1479m away, Alexandra Primary School is 1533 m away, and Gan Eng Seng School is 1644 m away from Martin Modern condo.

• The condo near Martin Place has 9 parks in close proximity of 1 to 2km distance such as Fort Canning Park is 915 m away, Istana Park is 921 m away, Pearl's Hill City Park is 996 m away, Tiong Bahru Park is 1654 m away, and Raffles Place Park is 1829 m away from Martin Modern.

• There are 10 supermarkets are available within 1km of distance from Martin Modern new property near Martin Place. Fair Price (Orchard Grand Court) is 440 m away, Cold Storage-UE Square is 532 m away, Sheng Siong - Chin Swee 52 Supermarket is 797 m away, Cold Storage - Plaza Singapura is 1144 m away, FairPrice - Chinatown Point is 1186 m away, and FairPrice Finest - Finest Valley Point is 1222 m away from Martin Modern.

• The Martin Modern exclusive condominium has almost 10 clinics within 1 km of Distance. Moreover, Dental Clinic is 202 m away, Dr. Tan & Partners is 408 m away, Halley Medical Aesthetics is 483m away, and Pinnacle Family Clinic is 489 m away from Martin Modern at the corner of Martin Place.




Unit Mix of Martin Modern:

Martin Modern site plan has a strategic nature as this modern place site is very sought after in Singapore. Martin Modern site plan and floor plan consists of 2 bedrooms (764 sqft) to 4 bedrooms unit is discussed below;




UNIT TYPES UNIT AREA NO. OF UNITS

2 bedrooms 764 sqft – 764 sqft 145

2 bedrooms sky unit 764 sqft – 764 sqft 5

2 bedrooms+study 850sq ft – 883sq ft 90

3 bedrooms 1012sq ft – 1335sq ft 89

3 bedrooms premium 1399sq ft – 1421sq ft 56

3 bedrooms sky unit 1012sq ft – 1421sq ft 5

4 bedrooms 1701sq ft – 1798sq ft 2

4 bedrooms premium 1733sq ft – 1798sq ft 56

4 bedrooms sky unit 1733sq ft – 1798sq ft 2




Martin Modern Price:

The expected Martin Modern price of residential units is determined by official authorities. The Martin Modern prices are given below;




Unit Type No. of Units Price

2-Bedroom (764 sqft) 150 units from $1.893 million & Up

2-Bedroom + Study 90 units from $2.473 million & Up

3-Bedroom 90 units from $3.108 million & Up

3-Bedroom Premium 60 units from $3.682 million & Up

4-Bedroom 60 units from $4.485 million & Up




Martin Modern Showflat:

you can now register and book your Martin Modern Showflat appointments online. Showflat location is then provided and without an appointment, you will not be able to visit the show flat site. you can contact for further information.




Developer
GuocoLand Limited
Development
2 towers of 30-storey each
TOP
31 December 2021
Tenure
99 Years
No. Of Units
450
Location


Everything Important Within Reach
Every seasoned home buyer and investor knows that acquiring value is about location, location, location. Martin Modern has an unparalleled location, being close to the most important and exciting districts in Singapore, such as Orchard Road, the Civic District, the Central Business District (CBD) and Marina Bay. Such proximity brings with it convenience, time-saving, and an assurance that your property will keep its value well.
The Luxury of Connectivity
Martin Modern is well-connected to its surroundings and the rest of Singapore, by MRT, roads, walking paths, cycling paths, and river taxi services. The Martin Modern resident will have the luxury of choice for the most convenient modes of transport to get to any part of Singapore.
Nearby Amenties
Landmarks
AmenitiesEstimated Distance*Estimated Time*Singapore River0.28km3-min walkOrchard Road1.20km15-min walkCentral Business District (Raffles Place)2.30km4-min driveCivic District (City Hall)2.80km5-min driveTanjong Pagar Centre2.80km5-min driveMarina Bay Sands3.80km7-min driveGardens by the Bay3.80km7-min drive
Transport
AmenitiesEstimated Distance*Estimated Time*Future Great World MRT Station0.50km5-min walkSomerset MRT Station1.20km15-min walkFuture Fort Canning MRT Station1.20km15-min walkCentral Expressway1.80km3-min driveNicoll Highway3.30km6-min driveMarina Coastal Expressway3.80km7-min drive
Shopping, Dining & Entertainment Facilities
AmenitiesEstimated Distance*Estimated Time*P.S. Cafe @ Martin Road0.19km2-min walkCommon Man Cafe Roasters0.25km3-min walkIntercontinental Robertson Quay and Quayside0.35km4-min walkTheatreWorks0.45km5-min walkStudio M0.45km5-min walkM Social0.50km6-min walkSTPI0.50km6-min walkGreat World City (via Great World MRT)0.60km7-min walkRobertson Walk0.65km8-min walkThe Warehouse Hotel0.65km8-min walkSingapore Repertory Theatre0.70km9-min walkUE Square0.85km10-min walk313@Somerset1.50km18-min walkParagon Shopping Centre2.30km4-min driveION Orchard2.30km4-min driveTanjong Pagar Centre2.80km5-min drivePlaza Singapura3.30km6-min driveRaffles City Tower3.30km6-min driveBugis Junction3.30km6-min driveSuntec City Mall3.80km7-min drive
Schools and Institutions
AmenitiesEstimated Distance*Estimated Time*River Valley Primary School0.25km2-min walkSchool of the Arts (SOTA)2.30km4-min driveISS International School2.80km5-min driveLASALLE College of the Arts2.80km5-min driveSingapore Management University (SMU)2.80km5-min driveNanyang Academy of Fine Arts2.80km5-min driveAnglo-Chinese School (Junior)2.80km5-min driveRaffles Girls' School3.30km6-min driveCrescent Girls' School3.30km6-min driveSt. Margaret's Primary School4.30km8-min driveAnglo-Chinese School (Barker Road)5.70km11-min drive
Parks and Water Bodies
AmenitiesEstimated Distance*Estimated Time*Singapore River0.50km6-min walkFort Canning Park1.10km16-min walkAlexandra Park Connector1.10km16-min walkEsplanade Park3.80km7-min driveSingapore Botanic Gardens3.80km7-min driveHortPark5.30km10-min drive
Hospitals/Medical Centers/Polyclinics
AmenitiesEstimated Distance*Estimated Time*Pinnacle Family Clinic0.60km7-min walkDoctor Jay Medical Centre0.75km9-min walkKilliney Family & Wellness Clinic0.85km11-min walkParagon Medical Centre1.50km18-min walkMount Elizabeth Hospital2.80km5-min driveCamden Medical Centre2.80km5-min driveRaffles Hospital3.30km6-min driveGleneagles Hospital3.80km7-min drive
*Note: Estimated distance and estimated time are quoted from http://maps.google.com Please note that these are estimates only.
Location Highlights
- Located at the corner of Martin Place and River Valley Close
- Within walking distance to Somerset MRT station along the North South Line, the upcoming Great World MRT station along the Thomson-East Coast line and the upcoming Fort Canning MRT station along the Downtown line
- Situated within the posh residential neighbourhood of Robertson Quay, a hip lifestyle destination with trendy wine bars, restaurants, cafes and retail shops
- Near Singapore river lifestyle corridor where one can take the River Taxi to the Central Business District
- Minutes' drive to Orchard Road, the Central Business District and Marina Bay
- Proximity to established schools such as River Valley Primary School, School of the Arts (SOTA) and Singapore Management University
- Approximately 8-min drive to the Civic District for arts and cultural treats with its museums, concert halls and art galleries
- Approximately 15-min walk to Fort Canning and Alexandra Park Connector, providing avenues for cycling and jogging enthusiasts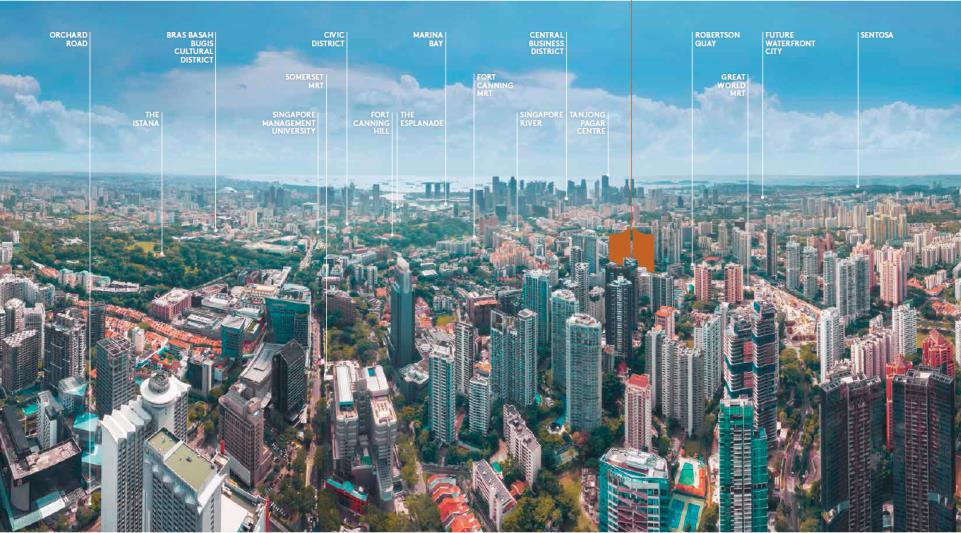 ---
Site Plans and Floor Plans
Register your interest for Martin Modern, Singapore


Register your interest below for a VIP Pass to secure developer early bird discount
Get in Touch
---
Martin Modern, Singapore